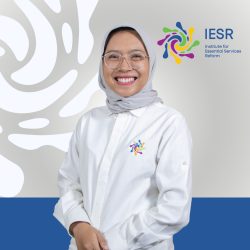 Hadriyanti Diah Puspitarini
Yanti is one of the two research managers in IESR with main focus on supervising many researches in IESR, she also has been an energy analyst expertizing in energy modeling since 2014. She exploits this skill to promote sustainable development in energy sector. She got her PhD degree in the field of renewable energy optimization from University of Padova, Italy. Her interest in renewable energy was built during her internship in Laboratory of Transfers in Hydrology and Environment, France to finish her master degree in Environmental Science from Université Joseph Fourier Grenoble I (now is Université Grenoble Alps), France. Her bachelor degree is from Sepuluh Nopember Institute of Technology, Indonesia. 
Before joining IESR, Yanti was a researcher in University of Padova, Italy and Sepuluh Nopember Institute of Technology, Indonesia. For enhancing her modeling and communication skills, she went to University of Massachusetts Amherst, USA in one of summers during her research period in Italy. For broadening her modeling skill, she also learned the socio-hydrology modeling from a summer institute held by Tsinghua and Yunnan Universities, China.
Apart from her technical skills, she loves drawing comics, sketching, and reading thriller books during her leisure time. Telling something using pictures to the non-technical audience is more effective than only using words, in her opinion.