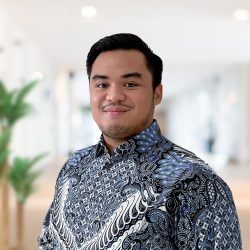 Outreach and Engagement Adviser for Clean, Affordable, and Secure Energy in Southeast Asia (CASE)
Iqbal works as Outreach and Engagement Adviser for the Clean, Affordable, and Secure Energy (CASE) for Southeast Asia (SEA) Project, a project that aims at changing the narrative of the energy sector's direction in SEA towards an evidence-based energy transition. His main tasks are managing and developing relationships with the project's political partners, as well as to the overall energy and non-energy stakeholders in Indonesia.

Iqbal started his career by working for several projects managed by the Deutsche Gesellschaft für Internationale Zusammenarbeit GmbH in Indonesia, working on various issues on sustainable development, especially renewable energy. He also had experience working as a global palm oil supply chain data analyst for Earthworm Foundation before joining IESR.

He holds an MBA degree from the School of Business and Management, Institut Teknologi Bandung with focus on knowledge management and entrepreneurship. And a bachelor's degree in resource & environmental economics from Institut Pertanian Bogor.