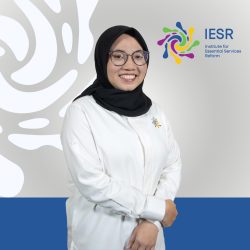 Nasyaibachz Sila Sakti Suryadiyah Nurdin
Green Economy Program Officer
Nasyai joined IESR as Green Economy Program Officer. Before IESR, she juggles her time with her freelance job as an English Translator at Digito agency and Class Administrator at Aqyla Academy that resides in Japan.
She completed her bachelor's degree at UGM majoring in Communication Science with a concentration on Media Entertainment. During her college time, she was involved in the village partner development ministry at BEM KM UGM. From then on, she became interested in the practice of sustainable community development.
After work, Nasyai enjoys her time alone doing her passion in playing games and movie reviews.