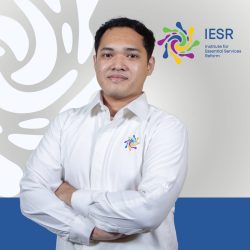 Bali Net Zero Emission 2045 Research Coordinator
Naufal works as Bali Net Zero Emission 2045 Research Coordinator . He is responsible for ensuring that the Bali Net Zero Emission (NZE) analysis is completed on time, leading with the assistance of the Research Manager in conducting research (desk research and data collection) related to the Bali NZE project, ensuring regular communication with the NZE Program, building and structuring databases and information for the Bali NZE analysis, and reporting on the Bali NZE research project. Before starting his career at IESR, Naufal pursued his undergraduate education at Padjadjaran University majoring in Physics with a concentration in Energy Physics and research on Geothermal. He continued his master's degree at Bandung Institute of Technology majoring in Mechanical Engineering with specialization in Sustainable Energy Engineering and research focus on water energy, especially water turbine development. 
Naufal has been an experimental physics laboratory assistant for an ideal gas resonance module, photovoltaic, and simple harmonic rotator. I also became an energy physics laboratory assistant for the thermoelectric and PEM Electolyzer modules. Then did an internship at PT Pertamina Geothermal Energy Karaha Bodas to analyze the pressure drop that occurred. I have also been a consultant assistant in the Bone Bolango Hydropower project to analyze water flow and flooding potential under the auspices of PPEBT ITB, as well as in the biomass project to analyze technoeconomics and prepare Feasibility Study (FS) reports and PLTSa projects to prepare FS reports under the auspices of the ITB Thermodynamics Laboratory. After graduation, Naufal started his professional career at PT Bangun Nusantara Engineering (PT BNE), a consulting company in Bandung, as a Mechanical Engineer. He was responsible for calculating and analyzing water turbines in hydropower and pump storage systems, sluice gates, design and analysis of PLTS systems, as well as preparation of Pre FS, FS, and Detail Engineering Design (DED) documents for hydropower and PLTS. Naufal is also one of the founders of PT Bintang Terbarukan Indonesia (PT BTI) an EPC company in the field of solar energy in Bali. 
Naufal has published three papers related to renewable energy, namely "Design and Simulation of Archimedes Screw Turbine at Head Below 1 Meter," "Model of the Effect of Pipe Diameter on Pressure Drop in Steam Dominated PLTP Pipe," and "Identification of Potential Geothermal Energy Used for Vaccine COVID-19 Cold Storage Box Using Absorptive Refrigeration" which was researched by Naufal and his colleagues. Naufal is passionate about environmental and sustainability issues. Naufal has been volunteering for Greenpeace Youth Bandung since 2019. He also loves animals, especially cats. In his spare time, Naufal enjoys reading fiction novels, watching Korean dramas and other movies, and listening to and playing music. Naufal also spends his weekends playing basketball.