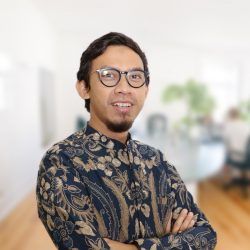 Manajer Program • Transformasi Energi
Jannata (Egi) manages the Energy Transformation program to support the energy transition process in Indonesia towards universal and sustainable access in low carbon energy systems.
He has seven years of experience working in climate change, energy, and environmental issues.
Prior to his position at IESR in 2017, Egi, previously worked as Low Emission Development Strategy (LEDS) Coordinator at Indonesia Clean Energy Development (ICED) Project USAID. He has also been worked as an individual consultant at UNDP Market Transformation through Design and Implementation of Appropriate Mitigation Actions in the Energy Sector (MTRE3) Project as well as GIZ Policy Advice for Environmental and Climate Change (PAKLIM).
His professional career began in the fourth year of his undergraduate studies at Bogor Agricultural Institute as an apprentice at the Indonesia National Council on Climate Change (DNPI). Egi's contribution to DNPI continued until June 2014 before he joined the USAID ICED Project.
In 2016, Egi was awarded a New Zealand ASEAN Scholarship to undertake a postgraduate study at the University of Auckland. His Master of Energy focused on energy, sustainability, and environment studies. In addition to the career, Egi was also a lecturer at Podomoro University.