Semarang, 10 November 2022 – The energy transition has become the focus of many parties lately. It's not only the government that has the responsibility to provide clean and affordable energy for the entire community, the industrial sector is also starting to switch to clean energy through various efforts. For companies, today's global product competitiveness is also determined by how the manufacturing process is carried out efficiently and by using sustainable energy sources. The collaborative action of various sectors in the use of renewable energy will support the acceleration of the energy transition on a national level.
To take a closer look at various initiatives from the industry and community sectors, the Central Java Provincial Energy and Mineral Resources Office in collaboration with the Institute for Essential Services Reform organized the "Jelajah Energi Terbarukan" activity on November 10-11 2022. This activity visits several destinations focused on industries and villages that utilize renewable energy potential. This is the second activity, after last June a similar activity was carried out with a focus on different destinations.
The journey started by visiting CV Jaya Setia Plastik, in Demak, to see how the children's toy industry saves electricity by installing a 470 kWp on-grid rooftop solar PV.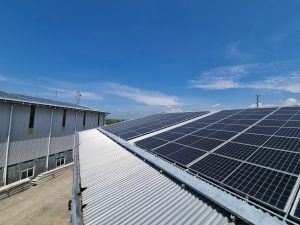 "Currently, what is actually installed on our roof is 1,300 kWp, but we have not used the other 470 kWp connected to PLN because we are currently constrained by regulations that limit the installation of rooftop PLTS to a maximum of 15% of the total installed power," Wahyu representative of CV Jaya Setia Plastik explained. 
Djarum Kretek Oasis, which is located in Kudus, Central Java, also experienced similar challenges. Having several types of green industry initiatives such as the use of biomass boilers, rooftop PLTS, water storage ponds equipped with wastewater treatment facilities, Djarum is still determined to continue to increase its renewable energy capacity.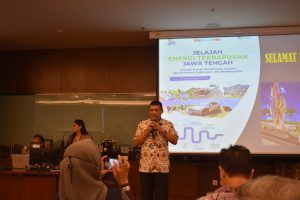 "Our roof area can still accommodate more solar PV, but due to regulatory limitations we have not been able to add capacity," said Suwarno, Deputy General Manager Engineering at PT Djarum.
The limitation of rooftop PV capacity has become a concern of various parties because it has become one of the obstacles for consumers, especially the industrial sector, to install or increase the capacity of their rooftop solar. Currently, the Ministry of Energy and Mineral Resources and PLN are in the process of revising the Minister of Energy and Mineral Resources' decree no. 26/2021 which regulates the installation of rooftop PV for PLN consumers.
Apart from utilizing solar rooftop, Djarum Oasis has also designed a sustainability scheme for its factory comprehensively covering various aspects, one of which is by utilizing the pruning trees of 'trembesi' (Samanea saman) planted on a number of toll roads as part of its CSR, as wood chips for biomass boiler fuel.
The first day's journey continues towards the waste-to-energy plant Putri Cempo, which is in the Surakarta area. This plant has signed a Power Purchase Agreement (PPA) with PLN and will be on COD at the end of 2022. Elan Suherlan, Director of PT SCMP (Solo Metro Citra Plasma) explained, Putri Cempo waste-to-energy plant exists to overcome the waste problem in Surakarta city which can no longer be accommodated by the Waste Processing Site. PT SMCP, which won the tender for the plant construction, started its construction in 2021.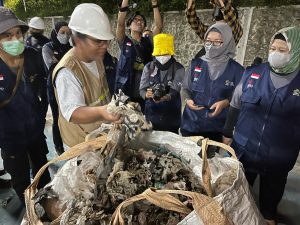 "Later Putri Cempo waste-to-energy plant will produce 5 MW of electricity and will be distributed to PLN," said Elan.
What needs to be observed is a clear calculation of the greenhouse gas emissions resulting from this waste-to-energy plant.
The first day of "Jelajah Energi" was closed by visiting Krendowahono Village, which has utilized biogenic shallow gas for 30 households. Biogenic gas is produced from organic compounds such as plants and grasses that decompose with the help of bacteria. Because it comes from residues of organic compounds, biogenic gasses are generally found in shallow soil layers. Since its amount is relatively small and dispersed, biogenic gas must be compressed (increased pressure) so that it is easy to flow and use.
Several villages in Central Java have quite a lot of potential for biogenic gas, including Gabus Village, in Ngrampal District, Sragen, Rajek Village, in Grobogan, Bantar, and Pegundungan Villages in Banjarnegara, which can be used as an alternative energy source for cooking. The biogenic gas utilization installation is also relatively low and can be used communally.
Solihin, head of RT 6, Krendowahono Village, explained that the discovery of swamp gas started with residents who were going to make a well for a water source but when water was found at a certain depth, the water could actually catch fire.
"After we reported it and a team came to check it, turned out that this gas can be used for households," he said.
Mrs. Uni, one of the beneficiaries of the swamp gas, admitted that by using the swamp gas she could save on cooking fuel quite significantly.
"Usually in a month I can use 4 of 3 kg of LPG gas, now it's only 1," she said while showing her kitchen. Uni admits that she still uses LPG gas as a fuel reserve for cooking because the stove from swamp gas only has 1 burner.
Currently the local communities are designing an operational system for the swamp gas network, starting from the operating hours of the machine, the amount of contributions, and maintenance costs.