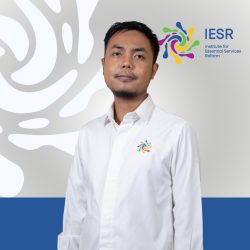 Abyan Hilmy Yafi, called Hilmy, now he is working for the research team Institute for Essential Service Reform as Energy Data Analyst. His main task is procuring primary or secondary data and providing analyses of the said data. Additionally, he is also responsible for creating data visualization for publication and IESR's data-sharing platform.
Previously Hilmy worked at PT Dua Kelinci as an energy identification and analyst. He was tasked to collect data and analyze it to update the energy efficiency project's progress. He also helped with various projects including food safety related to pest control, and project implementation of the SCADA System to monitor production results.
Hilmy graduated from ITS Surabaya, where he studied engineering physics with an undergrad thesis about analyzing the HVAC systems in KRL Jabodetabek. While in college, Hilmy joined the Student Executive Board of the Faculty of Industrial Technology.
Hilmy love to travel and morning jog. For Hilmy such activities can make the mind fresher. Hilmy's view on the future of planet earth can still be inhabited by humans