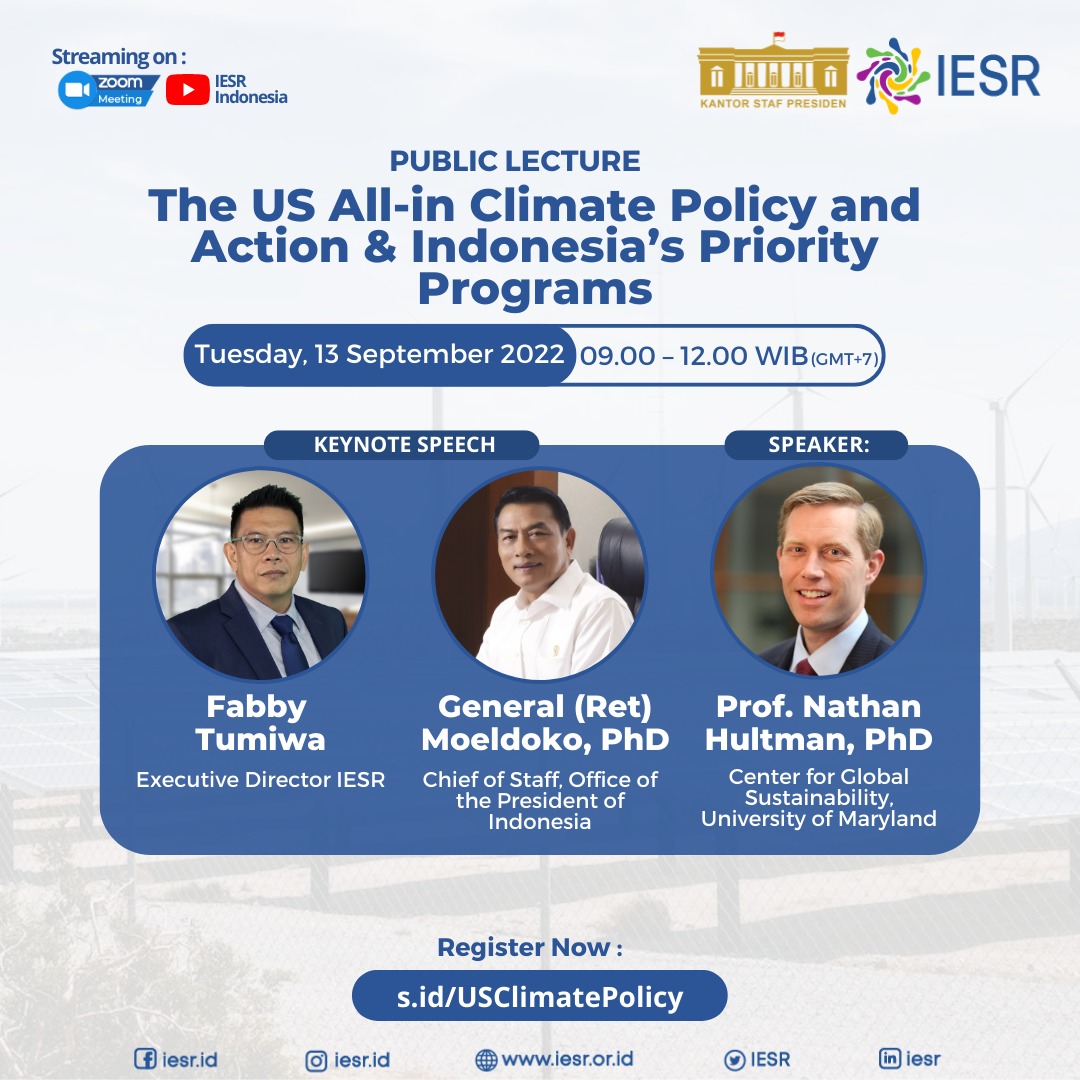 Public Lecture on "The US All-in Climate Policy and Action & Indonesia's Priority Programs"
The public Lecture is Hosted by IESR & The Executive Office of the President of Indonesia
Meeting Paris Agreement's goal requires rapid decarbonization of entire economies and industries. However, the process, scale, and speed of decarbonization vary among countries. The climate action of the United States, as one of the advanced economies as well as the second largest greenhouse gas emitter, has a large impact on the world's struggle for mitigating the climate crisis. Fortunately, under the Biden-Harris administration, the US federal government has made the climate crisis among the top priority of the US.
The US rejoined the Paris Agreement in early 2021. The action has been followed by many non-government leaders around the US, which formed a coalition called America is All in. This would potentially strengthen the climate action within the US, as both governing and non-governing sides could work together in implementing an ambitious climate policy. The Biden administration has also reinforced their climate policy by submitting an NDC which targets 50-52% of emission reduction by 2030 against the 2005 level. Recently, an Inflation Reduction Act (IRA) is signed which would foresee incentives amounted to billion of dollars for clean and low carbon energy sources.
Recent US climate policy development also has the potential to impact other countries, given its position as a global economic leader. World Economic Forum even projects that the IRA could bring about positive impacts globally, aside from obviously curbing the US GHG emissions. Therefore, it is beneficial for other countries to also understand the US political development especially related to the climate policy and its impact on clean energy solutions, the further decline of renewables, and so on.
In addition, as a developing country, Indonesia also has diverse priority programs expanding from energy to food and even establishing trade relationships for supporting the country's development. Manifesting a good relationship with advanced economic countries such as the US might serve the achievement of the current priority programs.
Institute for Essential Services Reform (IESR), in collaboration with the Executive Office of the President, will hold a public lecture/seminar on the US All-In Climate Policy and Indonesia's Development Priority and how the US-Indonesia relationship could serve both nations. The public lecture would invite Prof. Nathan Hultman, Ph.D. from the Center for the Global Sustainability University of Maryland, and Experts from The Executive Office of the President.
---
Time and Place
Day, Date       : Tuesday, 13 September 2022
Time                : 09.00 – 12.00 WIB (GMT+7)
Venue             :
Theater Room, Building C, National Museum
Jl. Medan Merdeka Sel. No.11, Jakarta 10110, Indonesia
The RSVP ticket sales has ended!
Speakers
Fabby Tumiwa - Executive Director IESR

General (Ret) Dr. Moeldoko - Chief of Staff at the Office of the President of Indonesia

Prof. Nathan Hultman Ph.D. from the Center for the Global Sustainability University of Maryland