Report Launch and Discussion: Analysis of Flexible Coal-Fired Power Plant Operation for Renewable Energy Integration
Recording Playback
---
Indonesia has ratified the Paris Agreement through Law no 16/2016 which means that Indonesia has committed itself to addressing climate change challenges by supporting global efforts to limit the increase in average temperature by 1.5 0C below the pre-industrial average temperature level. In one of the IPCC models, to limit the increase in temperature below 1.5 0C, GHG emissions must be reduced by 45% in 2030 compared to GHG emission levels in 2010, and reach net zero in 2050. In this commitment, the Indonesian government has expressed its aspiration to achieve net zero in 2060 or earlier.
At COP26 in Glasgow, the Government of Indonesia also expressed a commitment to the early retirement of coal-fired power plants with a total capacity of 9.2 GW by 2030, if there is international assistance. By imposing early retirement of CFPP, there will be space for the integration of renewable energy into Indonesia's electricity system. The target for early retirement of CFPPs will tend to be the ones that are inefficient and old.
On the other hand, most of Indonesia's CFPPs are just under 10 years old. In fact, around 13.8 GW has just started operating in the decade leading to 2030 (PLN RUPTL 2021-2030). Retiring all CFPPs in the next decade will require high costs and can also threaten the stability of the electricity system, especially if renewable energy plants are not yet ready to be massively developed to replace the PLTU.
As a temporary measure, learning from other countries such as Germany and India, CFPPs operations can be reduced gradually and even made flexible. This temporary solution can help integrate renewable energy (variable renewable energy, especially solar and wind energy) so as to encourage the maturity and readiness of the renewable energy industry for more massive renewable energy development in the future. At the same time, other benefits such as greenhouse gas emissions can also be reduced (CFPPs electricity is partially replaced by renewable energy). In addition, the cost and stability of the electricity system can also be maintained during the transition period.
Based on the reasons above, IESR conducted a study related to the implementation of the flexible operation of CFPP in Indonesia. It is important to ensure that the adoption of flexible operations is solely to improve the renewable energy mix in the energy transition process while ensuring the reduction of greenhouse gas emissions to comply with the Paris Agreement. The study entitled "An Analysis on Operating Coal-Fired Power Plants Flexibly to Further Integrate Renewables into Indonesia's Power System" was prepared to take a deeper look at the greenhouse gas mitigation aspects and the role of PLTU operations, especially if made more flexible as a (temporary) strategy. to integrate renewable energy.
---
Publikasi Terkait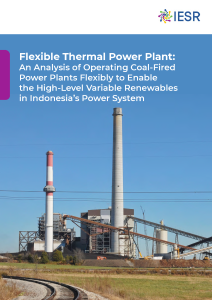 ---
Presentation Materials
Dimitri Pescia – Programme Lead Southeast Asia, Agora Energiewende
"Flexible Coal Generation"
2022-06-15.Pescia_Flexiblity_exisiting_coal_power_IESR

Dr. Raditya Wiranegara – Senior Researcher IESR
220615-IESR-Flexible-CFPP-report-launch-presentation

Speakers
Dimitri Pescia - Agora Energiewende*

Dr Raditya Wiranegara - Senior Researcher IESR

Dr. Muhamad Reza Director Engineering PT PLN Enjiniring*

Evy Haryadi -Director of Corporate Planning State Utility PT PLN*

Frank Peter - Agora Energiewende*

M Priharto Dwinugroho - Director of Power Engineerring and Environment MEMR*