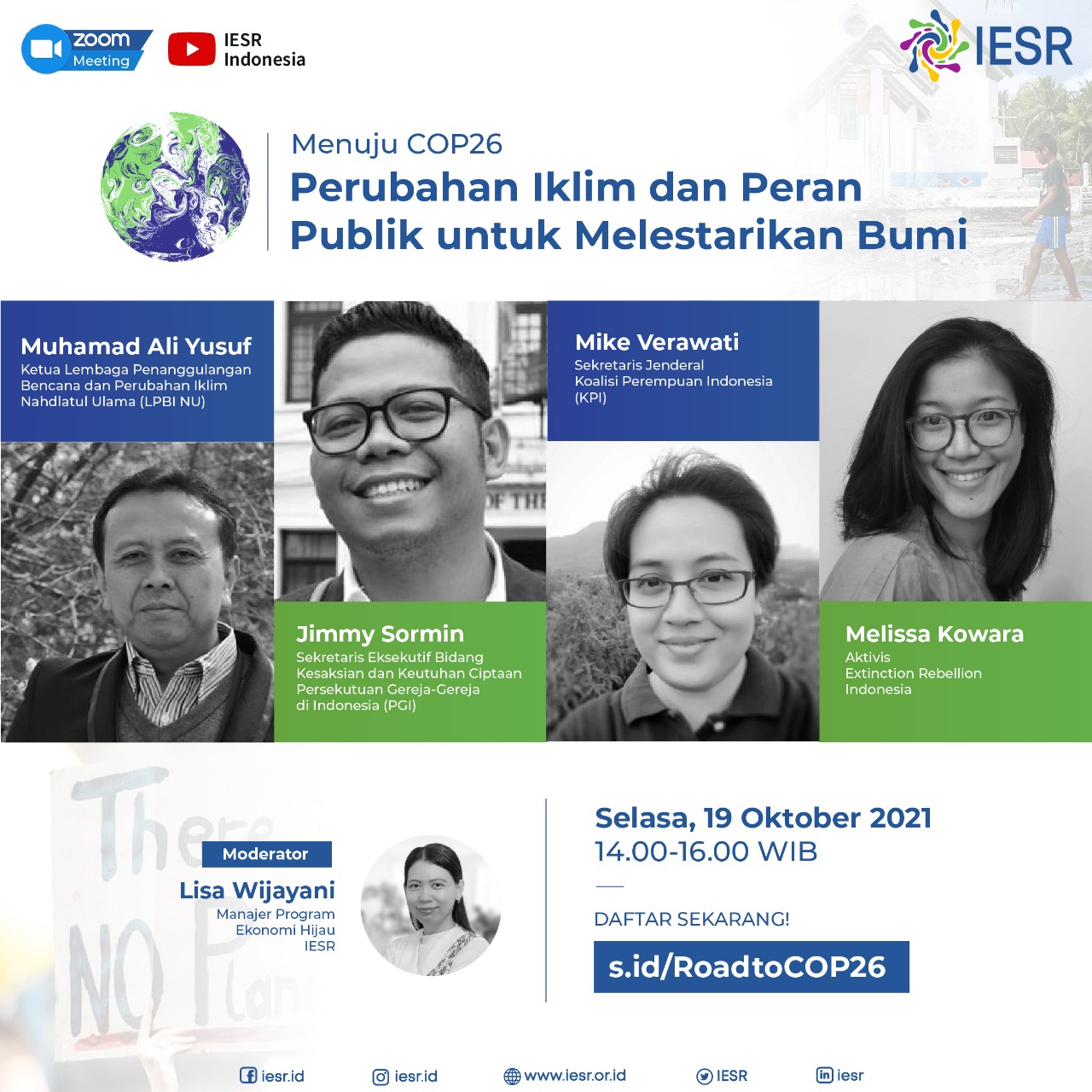 Road to COP 26: Climate change and the role of the public actors to save the earth
Recording Playback
---
Indonesia ratified the Paris Agreement on April 22, 2016 through Law No. 16 of 2016 and developed a plan to reduce emissions in the Nationally Determined Contribution (NDC). Indonesia has pledged to reduce its emissions by 29% on its own and by 41% with international support by 2030. Indonesia has also committed to tackling climate change and preventing temperature rises below 2°C at the global average or 1.5° C above pre-industrial levels. In addition, in order to meet the temperature target set out in the Paris Agreement, all countries in the world are expected to achieve net zero emissions by 2050, including Indonesia.
In updating the NDC and the 2050 LTS-LCCR (Long-term Strategy on Low Carbon and Climate Resilience) document, Indonesia stated that it would only reach net zero emissions in 2060. This shows that Indonesia will be 10 years behind from the carbon neutral target set by the Paris Agreement. Based on the IPCC Sixth Assessment Report (AR-6), the opportunity to stabilize the climate is becoming increasingly narrow. This can be seen from several impacts of the climate crisis that often occur. The increase in extreme weather events affects the frequency and intensity of hydrometeorological disasters, such as floods, landslides, droughts, and tropical cyclones. As a result, a number of infrastructures were damaged and caused losses both physically and financially. Based on the results of a Bappenas study, in 2023 economic losses from the impacts of climate change will reach 112.2 trillion rupiah.
In addition, the climate risk begins to create inequality where developed countries as the largest emission contributors experience less impact than developing countries that produce lower emissions. Rising sea levels threaten the livelihoods of those who depend on coastal areas. Drought can lead to scarcity of food supplies and difficulty in finding water sources which results in the emergence of social conflicts. Women, children, the elderly and the disabled are vulnerable groups who will experience the impact of the climate crisis due to their lack of access to education, finance and information. There is an understanding that the issue of climate change is a concept of the 'western world' and is only the consumption of elite organizations driven by environmental activists can hinder the acceleration of climate change mitigation actions.
Encouraging the government to increase climate ambitions requires efforts from the entire community to increase mitigation actions from the government and increase self-awareness from the community side so as to create a climate-resilient society. In addition, open access to information is also important for public participation, especially community leaders and group leaders, in seeing concrete steps to encourage more serious ambitions from the Indonesian government.
Speakers
Jimmy Sormin - Sekretaris Eksekutif Badan Kesaksian dan Keutuhan Ciptaan Persekutuan Gereja-Gereja di Indonesia (PGI)

Melissa Kowara - Aktivis Extinction Rebellion Indonesia

Mike Verawati Tangka - Sekretaris Jenderal Koalisi Perempuan Indonesia (KPI)

Muhamad Ali Yusuf - Ketua Lembaga Penanggulangan Bencana dan Perubahan Iklim Nahdlatul Ulama (LPBI NU) Nahdlatul Ulama (NU)