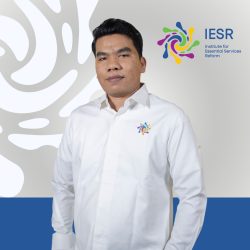 Energy Transformation Program Officer
Agung Marsallindo, nicknamed Agung, is an officer in the Energy Transformation Program at the Institute for Essential Services Reform (IESR). Prior to joining the IESR, he worked in the Global Innovation Hub Division at the United Nations Framework Convention on Climate Change (UNFCCC) in Germany, and also as a Researcher at the Institute for Sustainable Energy Policies (ISEP) in Japan. Based on this experience, he is passionate about energy transformation, energy policy, climate change, and natural resources management issues.
Having a background in Political Science makes Agung have a strong analytical thinking in Politics and Policy perspective on the Indonesian energy transition. He is currently in his final semester at Universitas Gadjah Mada in the Master of Politics and Government (Specialization in Environmental Politics) program. Also, he earned a Bachelor of Political Science from Universitas Andalas (Specialization in Political Communication).
In 2022, he was selected as Indonesian Delegate in Young Southeast Asian Leaders Initiative (YSEALI) Academic Fellowship Program on Environmental Issues and Natural Resources Management Cohort at East-West Center, Hawaii, USA. Then, since 2021, he has been working on various energy transitions, renewable energy conflicts, climate change mitigation, and natural resources management research during his master's in UGM and in NTNU as a semester exchange student. Thus, these experiences have equipped Agung with research, analysis, program management, leadership, and reporting skills pertaining to the field that he is passionate about.