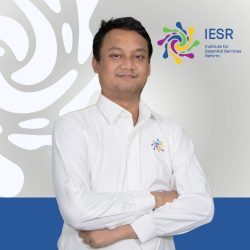 Website & Digital Asset Officer
Alif Fitrah Bagaskara, or simply Alif, is currently serving as a website and digital asset staff member in the IESR Communications team. His main task is to assist in the operation of all IESR's websites and platforms, as well as its programs. He also assists in various activities to help disseminate IESR's information and communication through various external activities.
Prior to working at IESR, Alif studied international relations at Universitas Jenderal Soedirman. During his studies, Alif was quite active, participating in various activities on and off campus. Starting from student associations, student activity organizations, and sports, followed by Alif Volunteering as a student at the International Affairs Office of Universitas Jenderal Soedirman (IRO UNSOED) helped Alif develop his communication and mass management skills the most because, for almost 3 years, he helped with formal and hospitality activities carried out by IRO UNSOED for campus partners (foreign lecturers, foreign students, and foreign institutions).
Before working at IESR, Alif worked as an education consultant. Prior to working at IESR, Alif worked as an education consultant at Quipper Indonesia, an online educational learning institution, and was a customer relations staffer at Ryuichi Indonesia, a plumbing and sanitary company. Prior to his current position, Alif was a communications intern at IESR and was also a part-time digital designer and website operator for the Clean Energy Resources Hub (CRH) Project under IESR's Energy Transformation Program.
Alif has skills in graphic design, photo and videography, and website development as additional skills in his work. In his spare time, Alif likes to spend his time playing games, watching the latest series and movies, and keeping up to date with current pop culture.