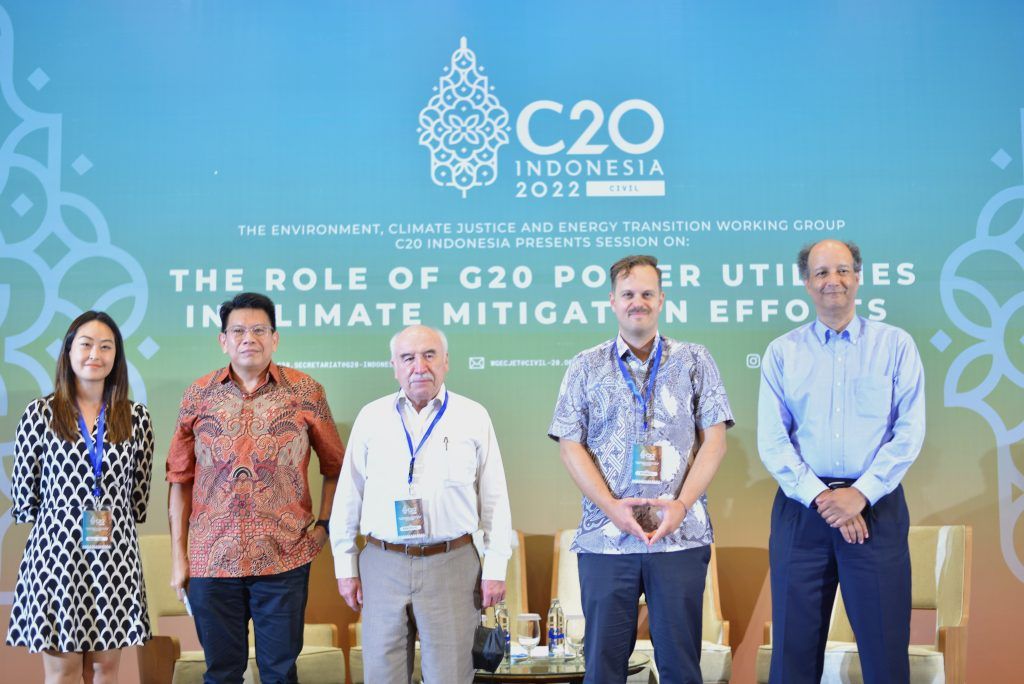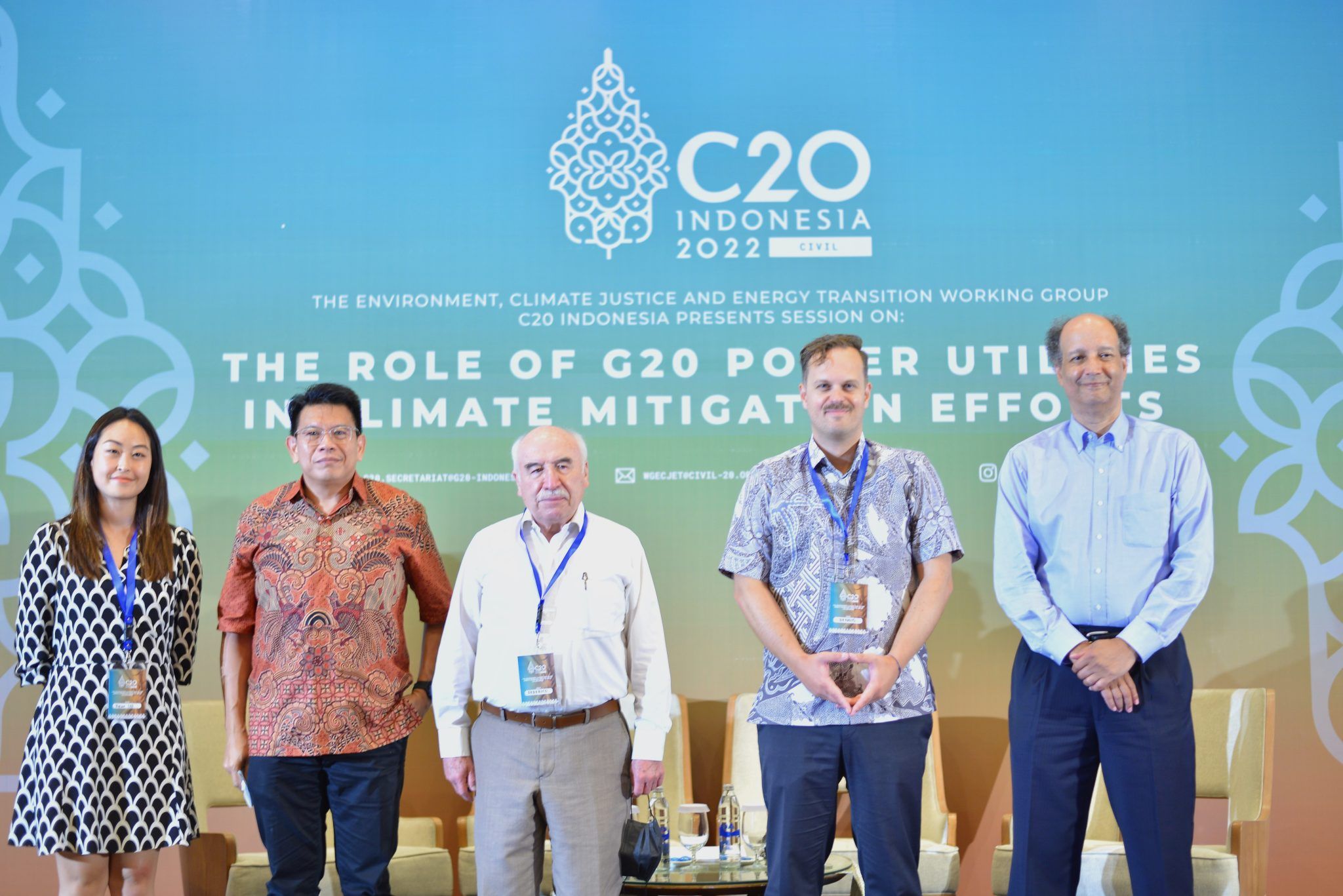 Bali, 30 August 2022 – As the main contributor to GHG emissions in the energy sector, Civil of Twenty (C20) Indonesia urges power utility companies to set inevitable targets, and a clear climate mitigation roadmap to reach zero emission by 2050. Civil of Twenty (C20) Indonesia invited energy experts and representatives from G20 power utility companies to discuss and urge the long-term strategy proposed by these power utility companies to accelerate the clean energy transition in their respective countries so as to align with the 1.5C pathway.
Risnawati Utami, the Sous-Sherpa of C20 Indonesia, in her opening remarks emphasized the importance of Indonesia's leadership to promote and engage all civil societies to influence the commitment and policy of the countries' members to adopt the human rights principles and international cooperation in mitigating the climate risks.
"The role of international cooperation recognizes the government's responsibility to work together internationally, to urge implementation plans and strategies to reduce climate risks," said Utami in the webinar of C20 titled "Role of G20 Power Utilities in Climate Mitigation Efforts".
The COP27 High-Level Champion, Mahmoud Mohieldin stated about 800 million people in the world are still living without electricity access. He said that solutions to overcome the energy problem and mitigate the climate crisis are the availability of adequate policy, effective implementation, localization and financing.
"The Paris Agreement needs to be aligned and integrated with the SDG framework, otherwise we are going to be suffering from a bad refabrication and partial approach," said Moheildin.
He expected that in COP27 which will be held in Egypt, more countries will come up with a more holistic approach towards sustainability focusing on the implementation and projectization ideas and initiatives and more of emphasis on the regional dimension, localization, and finance.
Fabby Tumiwa, Co-chair of C20 Indonesia and Executive Director of the Institute for Essential Services Reform (IESR) stated that as Indonesia holds the G20 Presidency, it should take bold action in orchestrating its power utility to implement energy transition. 
"Every country has to find its own way to deal with energy transition. The utility is facing serious challenges, such as climate change impacting the operation of the energy system, customer demands more renewable electricity at an affordable price, the workforce needs to upgrade with the current skill of renewable energy, regulation to limit carbon emissions, new technology is coming up that creates uncertainty in current utility business model," said Fabby.
Fabby added that utilities need to adapt faster since there is limited time left to combat the climate crisis. Learning and skill shares among G20 members are crucial for utilities able to implement the solution immediately.
Philippe Benoit from Global Energy Policy, Columbia University presented that as State-owned Power Companies (SPCs) play a significant role in reducing GHG emissions, the government needs to reform it by influencing SPCs with policy options and targeted interventions directly and indirectly.
"The government can support SPC low carbon action by making resources available to SPC and advocacy, external pressure. But I would say, the easiest for a government that is committed to climate policy is to exercise the government shareholder power. For example, formal directive through Board resolutions and instructions, senior management appointments and dismissals," said Benoit.
He added that other reformations of SPC include resourcing SPC low carbon actions with clear, consistent government direction, financing, complimentary or associated infrastructure, administrative support and capacity building for SPCs.
"SPCs need to participate in low carbon transition, as partners, not adversaries, and as enablers, not just producers. Empowering SPC low carbon action is key to achieving national and global climate goals," he said.
Joojin Kim, Managing Director of Solutions for Our Climate (SFOC) offered a G20 outlook on accommodating more renewables in the power system. 
"We are in a pivotal moment and state utilities in the G20 must show leadership to unite the international community around solutions to the climate crisis. Many G20 nations, especially in Asia, are experiencing significant curtailment of renewables. Amid the present global energy situation, curtailment poses further uncertainty and economic loss. To address such challenges, countries must establish a governance framework that will ensure fair access and compensation for technologies that contribute to grid flexibility in order to reduce fossil fuel expenditure and increase renewable energy in the power mix," said Joojin.
Evy Haryadi, Director of Corporate Planning of Perusahaan Listrik Negara (PLN), Indonesia, stated that achieving Indonesia's net-zero target by 2060 by phasing out coal and developing renewable energy needs enormous investment. 
"Indonesia needs around USD 600 billion investment for carbon neutrality by 2060. We need support from international funders. However, for early retirement initiatives, the energy transition financing scheme is not existing in the market but is green financing. Transition financing still needs some regulatory framework, especially in international financing," said Evy Haryadi. 
This event is organized by the C20 working group of environment, climate justice, and energy transition (ECEWG). C20 is one of the engagement groups under the G20 which represents civil society voices and concerns.