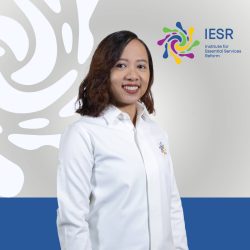 Dr. Marlistya Citraningrum
Sustainable Energy Access Program Manager

Marlistya Citraningrum or familiarly called (Citra) manages the Sustainable Energy Access program which aims to create an inclusive and sustainable energy access ecosystem for all people – a manifestation of energy democracy. Strategically, Citra is working to advance the use of solar energy and its policies in Indonesia, driving narratives for high-quality energy access and not just connecting, and developing SolarHub Indonesia by IESR – a solar energy information platform. Citra also forges partnerships with various government ministries and agencies, civil society organizations, associations, communities, and the public – and is a sub-national partnerships specialist, where she currently leads collaborations with 4 local governments in Indonesia. As a senior analyst at IESR, Citra has dealt with issues of access to energy, energy and gender, energy decentralization, climate, and development, as well as the Sustainable Development Goals (SDGs).
Since 2017, Citra has been actively involved in the Indonesian Solar Energy Association (ISEA/AESI), of which IESR is one of the founding institutions. For the period 2021 – 2024, he is Deputy Chairperson for Membership, Organizational Development, and Public Outreach.
Citra is a member of the development team for Energy Policy Simulator (EPS) Indonesia – this innovation from Energy Innovation is a finalist in Fast Company's Second Annual World Changing Ideas – an award platform for policies, projects, and concepts that offer innovative solutions to global challenges. Since 2018, he has also sat on the ACCESS (Alliance of Civil Society Organizations for Clean Energy Access) Global Coordination Group, an international coalition of CSOs working to accelerate the global transition to clean energy.
Citra joined IESR in June 2016, and to date has 14 years of professional experience covering research, advocacy, project management, monitoring, and evaluation, as well as community assistance on climate, environment, and development issues. He has a Ph.D. from Taiwan Tech with a research focus on environmental management and likes storytelling in research.
Citra joined IESR in June 2016. Before that, Citra worked in community development sectors, in which she gained comprehensive experience in behavioral assessment, facilitation, monitoring and evaluation, and multi-stakeholder engagement.
She holds a Ph.D. from Taiwan Tech with a research focus on environmental management. She particularly likes the use of storytelling in research, giving backgrounds and meanings to present hard evidence.