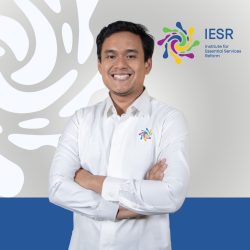 Energy Efficiency and Sustainable Building Coordinator
Cahyo is the Coordinator of Energy Efficiency and Sustainable Building at Institute for Essential Services Reform (IESR). He is responsible for supporting the Program Manager of Energy Transformation in implementing its workplan and achieving IESR vision.
Cahyo completed his Bachelor of Engineering in Architecture at Institut Teknologi Sepuluh Nopember (ITS) in 2016 and finished Architecture Professional Program at the same university in 2017. He acquired a Master of Sustainable Built Environment from the University of New South Wales (UNSW) Australia in 2021. Hold a Green Star Accredited Professional (GSAP) from the Green Building Council of Australia (GBCA). In addition, he is a Living Future Accredited Professional (LFAP) by the International Living Future Institute (ILFI), USA. Being the first Indonesian to earn the title.
Before joining IESR, Cahyo is involved in several projects, including programs by the Indonesian Institute of Architects and United Cities and Local Governments Asia Pacific (UCLG ASPAC). He had experience as an intern and architect with several consultants such as Realrich Architecture Workshop, Andyrahman Architect, and Arsiyasta Studio. Cahyo is passionate about sustainability. He is the founder and owner of Cykal, where he upcycled waste into new furniture and accessories.