Denpasar, August 11th, 2022 – The involvement of the wider community has a very important role in realizing the energy transition agenda. One of the initial steps is to provide a forum for sharing knowledge and discussion. In contrast to formal discussions targeting stakeholders, discussions with an informal, light, and entertaining format for the community are believed to be more effective. This is expected to be a comfortable space for the public to express their opinions openly.
Based on this understanding, the Clean, Affordable, and Secure Energy for Southeast Asia (CASE) project in Indonesia held an activity entitled "The Role of Public Participation in Energy Transition" which was carried out in Denpasar with representatives of civil society organizations, youth groups, and students in Bali. In this activity, CASE seeks to provide a forum for discussion as well as exchanging ideas and knowledge related to the topic of energy transition in Indonesia, especially in the context of Bali.
To facilitate the Balinese people in understanding the context of the energy transition, CASE Indonesia also presented various local expert speakers who explained various aspects of the energy transition and its relation to the people in Bali. For example, how renewable energy can be utilized, accessed, and have a positive impact on various levels of society in Bali.
Various policies to realize the energy transition has been issued in Indonesia. Especially in Bali, the Provincial Government of Bali has shown a positive response and supports the energy transition with clean energy policies which are expected to support the economic development of the Balinese people. However, these various policies will not be of much use if the community does not take part in the success of the plan.
"All the involvement of various community groups in Bali is important so that the energy transition becomes doable and not only in the form of policies on paper," said Ida Ayu Dwi Giriantari from the Center of Excellence Community Based Renewable Energy – Udayana University.
People in Bali depend on the tourism sector for their livelihoods to support their economy. CASE seeks to introduce real examples of tourism business units owned by indigenous Balinese people who have utilized renewable energy so that people can witness the impact of renewable energy in a business at the community level.
Present on this occasion, Putu Swantara Putra, often called Bli Klick, an architect and entrepreneur in the hospitality sector in Bali, tells his experience using renewable energy.
"There is nothing to lose in utilizing renewable energy (rooftop solar panels), with the various financing schemes that exist now, for us entrepreneurs, it feels the same as paying for PLN electricity. Imagine, the difference is that I have made a difference and are more environmentally friendly, even more so in a few years the tools are mine and I can use them for free."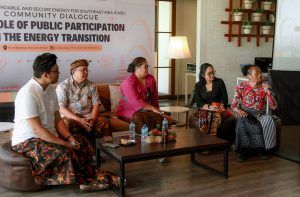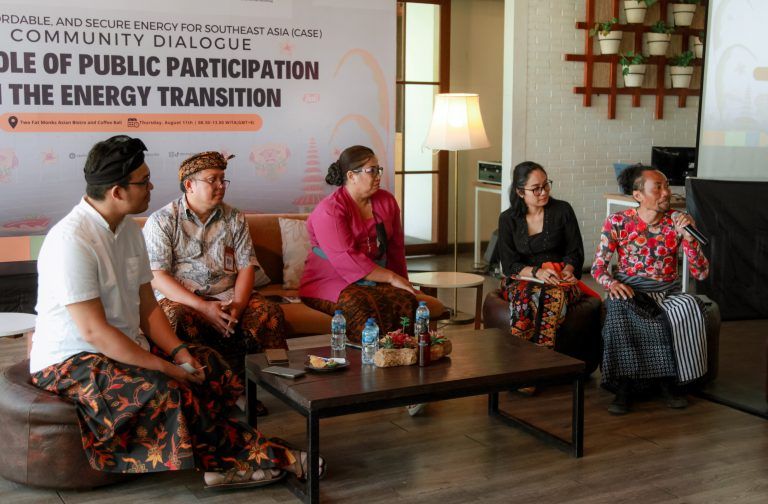 Similar to Bli Klick's statement, Dayu Maharatni from the Amoghassiddhi Cooperative said that the potential for financing rooftop solar power plants is interesting to observe. The Amoghassiddhi Cooperative is a community-based cooperative financing institution that provides a financing scheme for installing solar panels for its members.
"There is already a regulation that regulates us, the cooperatives, to provide an interest rate of no more than 1%. With this, we hope that more of our cooperative members are interested in developing their businesses with renewable energy. In our cooperatives, energy credit financing is only 2.4% compared to other types of financing. This means that there is still a lot of development potential (for renewable energy financing) for our members."
Dayu invites the public to understand that currently the potential for developing renewable energy is still very wide and has many benefits for the people in Bali. Furthermore, not only from the point of view of climate change mitigation but the development of renewable energy is also considered to have potential as a career choice (green jobs) and the community's economy in the future.
"Later on, the human resources needed in the development of renewable energy will be needed in every business process, for example, researchers, planners, operators, evaluators, and so on. Based on this data, if it is developed according to the development map, the Government estimates that by 2050, at least thousands of workers will be absorbed in this renewable energy sector," said I Gusti Ngurah Agung Dwijaya Saputra from the Bali State Polytechnic closing the presentation session.