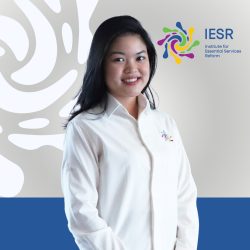 Executive Assistant to Executive Director
Febriena Rizayanti or Noni is an Executive Assistant to Executive Director of Institute for Essential Services Reform (IESR). She is responsible for managing the Executive Director's agenda to ensure regular communication with governments at different levels, NGOs, universities, businesses and commercials, and local project partners.
Before joining IESR, Noni worked at one of the consulting management companies in Jakarta, as Personal Assistant to Director and Team Research Support. Noni has developed skills in social media monitoring and analyzing social media trends. She also has experience in identifying persons of interest for the purpose of OSINT. As a person who has interest in social and humanities, especially in women gender equality, Noni has an experience as a volunteer teacher for refugees under the Sandya Institute. As an evidence of her concern towards sexual violence and support for women's gender equality, Noni was involved in a campaign project back in 2020 with the theme "STOP CATCALLING!"
She holds a bachelor degree from the Faculty of International Relations at President University with concentration on Diplomacy. Her thesis focused on The Implementation of Indonesia's Gastrodiplomacy conducted by The Ministry of Tourism through Tourism Promotion in Japan (2015-2018).