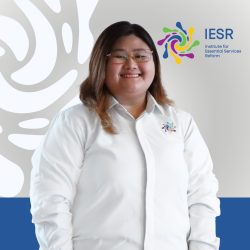 Communications Officer for Project Clean, Affordable, and Secure Energy (CASE ) for Southeast Asia
Soraya joined the IESR Team in 2023 as an Officer for the Communications Program and Project CASE (Clean, Affordable, and Secure Energy) for Southeast Asia. Her work will include developing communications strategy, research, and public outreach. She graduated from the International Relations Department of Parahyangan Catholic University with her research focusing on Media, Politics, and Transnational Society.
In 2019, Soraya went to London to join the Future News Worldwide Program, hosted by the British Council in Thomson Reuters HQ where she followed the training and workshops for young journalists from across the globe. Post graduation, she spent a year freelancing as a photographer, graphic designer, and content writer, before joining as an intern in 2021 and communications and stakeholder engagement consultant for C20 Indonesia in 2022 with IESR. In her free time, Soraya loves baking and a motorsports enthusiast (Formula 1, Formula E, and MotoGP).