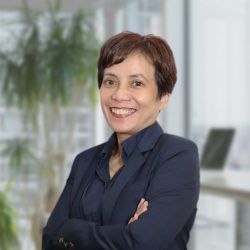 Manajer Administrasi dan Keuangan
Kharina Dhewayani has been with IESR for more than a decade almost since the beginning of the Institute established, managing the most crucial part of administering and managing the organization finance operation. Her extensive professional experience includes a tax company auditor in the Indonesian Tax Office in North Sumatera. Then she moved to Germany to work as administration staff at AWO in Duisburg, North Rhein Westfallen. After a while, she came back to Indonesia and joined with the INGO. Her responsibility includes auditing and budget monitoring for more than 35 local NGOs in Sumatra.
Kharina holds a Diploma degree from Sekolah Tinggi Akuntansi Negara (STAN) majoring in Indonesia Taxes Law, a Bachelor degree from University of Sumatra Utara majoring in Economic Accounting and a Master degree from University of Mercu Buana, Jakarta.
Kharina's Publication:
"My Dad in My Life (Kisah – Kisah Inspirasi dari Ayah Alumni STAN)", terbitan IKANAS KEUANGAN, 2013
"Keuangan Publik Antara Teori dan Praktik", Buku Serial Gagasan Kebijakan Publik, terbitan IKANAS KEUANGAN, 2019
Connect with Kharina on LinkedIn