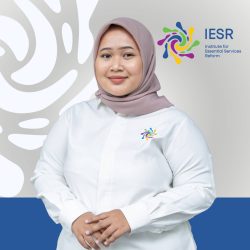 Laili Asdiyan Salsabila Ayu
Bali Net Zero Emission 2045 Program Officer
Laili Asdiyan Salsabila Ayu, who's commonly referred to as Caca took charge as Bali Net Zero Emission 2045 Program Officer. Her responsibilities include conducting analysis on Net Zero Emission in Bali and assisting the Program Manager of SEA in implementing the work plan for the Bali NZE program. She is also responsible for ensuring regular communication and fostering partnerships with IESR, the program's working partner for Bali NZE 2045.
Caca pursued her Bachelor's education at Udayana University, majoring in Electrical Engineering with a concentration in Energy and Power Systems. She is currently pursuing her Master's studies in Electrical Engineering at Udayana University, specializing in Energy Management
During her college years, Caca was a member of the research team at CORE UNUD (Center of Renewable Energy, Udayana University) for the Hosting Capacity Bali Province Feeder IESR project. In her final year of studies, she participated in an internship program called GERILYA MBKM Batch I KESDM and later became a Companion Mentor for GERILYA MBKM Batch II KESDM. She also served as a Liaison Officer for KESDM in the G20 Youth Summit Movement Energy Transition Program. After graduating, she joined PT. Rancang Prima Sejahtera as a Business Development Solar Consultant and the Suryanara Foundation as a Project Officer.
In early 2023, Caca published a research paper on renewable energy titled "Performance Analysis of an 11.2 kWp On-Grid Rooftop Solar Power Plant in Residential Bukit Gading Mediterania, North Jakarta."
Caca has a strong interest in renewable energy, particularly solar energy utilization. During her school years, she was an athlete in the Chess Contingent of Jembrana Bali. In her free time, Caca enjoys playing chess, cooking, reading novels, listening to music, and writing songs. She is particularly fond of cute animals, especially cats.