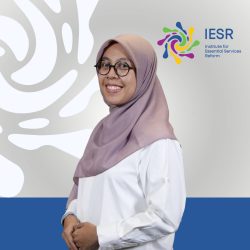 Sustainable Energy Access Program Officer
Sarah joined IESR as a Sustainable Energy Access Officer Program Staff. Sarah is responsible for ensuring that all activities, research, and advocacy with stakeholders at various levels go according to plan. The work she does is under the direct supervision of the Program Manager for access to sustainable energy.
Sarah completed her undergraduate program at the Civil Engineering Universitas Sultan Ageng Tirtayasa and continued her master's program at Universitas Gadjah Mada with a concentration in Transportation. During college, she underwent an internship program as a research assistant at the UGM Center for Transportation and Logistics Studies. There, she participated in writing journals and books and compiling studies on the transportation sector. She also created an academic paper for the International Conference on Smart Villages and Rural Development (COSVARD 2022).
Even with a background in the transportation sector, Sarah is enthusiastic about following issues around energy. In her spare time, Sarah usually fills it with reading books and listening to music.