Jakarta, 28 July 2022- Indonesia's energy transition requires significant investment to develop renewable energy generation, clean fuels, power grids, and energy storage. However, Indonesia also has a huge opportunity to attract investment in the renewable energy sector while developing innovative financing instruments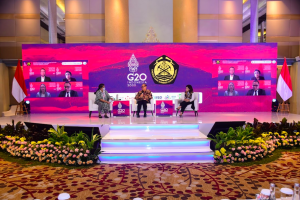 "Indonesia at least needs investment for the energy transition of around USD 1 trillion by 2060", said Minister of Energy and Mineral Resources, Arifin Tasrif in his speech at the G20 seminar series entitled "Unlocking Innovative Financing Schemes and Islamic Finance to Accelerate a Just Energy Transition In Emerging Economies"
Based on a study by the Institute for Essential Services Reform (IESR), investment needs for decarbonization of the energy sector range from USD 20–25 billion per year between 2020 and 2030 and around USD 40–60 billion per year from 2030 to 2050. 
"Indonesia owns renewable energy potential and energy needs that will continuously grow. In many ways, Indonesia should become a main investment target. Unfortunately, inconsistency on policy, regulation and lack of integrated coordination across sectors makes investors perceive Indonesia as a high risk investment market," explained Fabby Tumiwa, Executive Director of the Institute for Essential Services Reform (IESR).
According to the IISD (International Institute for Sustainable Development) report in 2020, only 7.8% of total investment was allocated for renewable energy in Indonesia. The rest is still focusing on fossil fuel. Peter Wooders, Senior Director Energy of IISD emphasized that the G20 should set a clear direction towards clean energy – which gradually includes a move away from supporting fossil fuels. 
"While public finance is not enough on its own, its role is essential – and many mechanisms can help", he added. 
Therefore, in this G20 Seminar Series, the discussion about Islamic financing was elevated such as waqf, sukuk and green bonds to enrich the perspective of energy transition financing potential. 
Islamic finance also plays an important role in funding various sustainable projects, including renewable energy. According to Indonesia Islamic Economic Masterplan 2019–2024, renewable energy has received some support through the Murabaha (the principle of buying and selling) scheme, as well as donations through zakat. 
Anna Skarbek, CEO Climateworks Centre stated that investment opportunities in climate transition and innovations in investment models across ASEAN region are profound. 
Yet, Kuki Soejachmoen, Executive Director of Indonesia Research Institute for Decarbonization (IRID) as well as the seminar's moderator reminded that any financing mechanism must pay attention to inclusivity and just/ fairness for everyone. Energy transition impact will gradually meet the end of fossil fuel and its relevant supply chain business, early retirement, new job opportunity, new skill, new industry – hence, it must be addressed in a good manner. 
$200 million Grant Commitment from Australia to Indonesia  
In his opening remarks, Andrew Hudson, CEO Centre for Policy Development, specifically raised the recent grant commitment dialogue between President Joko Widodo and Prime Minister Anthony Albanese, as a real example of the importance of cross-border dialogue. 
"It is crucial that we engage in a dialogue that shares experiences of the action required for effective,scalable and impactful cross-border investment in climate transition by both public and private-sector investors. We need to use the ambition and momentum of the $200 million climate and infrastructure partnership announced between Australia and Indonesia at the recent leaders' meeting"
On the road to G20 Summit, this seminar series was held by Energy Transition Working Group (ETWG) Indonesia G20 2022 and T20 Indonesia, in collaboration with the Centre For Policy Development (CPD) Australia, Climateworks Centre, International Institute for Sustainable Development (IISD), Indonesia Research Institute for Decarbonization (IRID), and the Institute for Essential Services Reform (IESR), supported by Asia Investor Group on Climate Change (AIGCC).