Jakarta, 28 July 2022– The energy transition is crucial and urgent to be implemented to reduce greenhouse gas (GHG) emissions and limit the earth's temperature below 1.5 degrees Celsius by 2050, according to the Paris Agreement. Strengthening the just energy transition requires sustainable and innovative funding.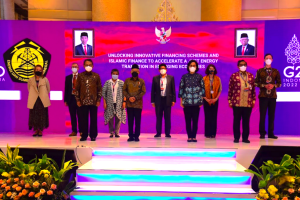 Minister of Energy and Mineral Resources, Arifin Tasrif in his speech at the G20 seminar series entitled "Unlocking Innovative Financing Schemes and Islamic Finance to Accelerate a Just Energy Transition In Emerging Economies" said Indonesia already has an energy transition roadmap to achieve carbon neutrality by 2060 or earlier.
"PLN through its national energy supply business plan (RUPTL) by 2021-2023, has also targeted the cleaner business plan by adding power plants generated from renewable energy up to 51.6%. Indonesia has planned to build an archipelago super grid to ramp up renewable energy development and maintain electrical stability and security," said Arifin.
Arifin added that at least Indonesia needs investment for the energy transition of around USD 1 trillion by 2060.
"Therefore, Indonesia continues to create strengthened relations with cooperation with partner countries and international financial institutions to find innovative funding mechanisms," he said.
Adding up, Yudo D. Priaadi, Chair of the Energy Transition Working Group (ETWG) G20 2022, said that innovative financing and Islamic (Islamic) financing have the potential to open opportunities to increase accessibility and inclusiveness toward sustainable financing.
"We must deploy an effective and proven platform as well as securing the investment," he said.
Mahendra Siregar, Chairman of the Board of Commissioners of the Indonesia Financial Services Authority, stressed that besides using sustainable financing to fund the energy transition, it should also be aligned with poverty alleviation efforts. He stated that the energy transition plan with sustainable financing also needs to provide profit.
"OJK plans to balance the transition and green economy, social stability, and alleviate poverty. OJK convinces the banks and public credit companies to address climate change," he explained on the same webinar.
Kuki Soejachmoen, Executive Director of the Indonesia Research Institute for Decarbonization (IRID), said that the energy transition does not only focus on the gradual transformation of the GHG emitting sectors, but also on new jobs, new industries, new skills, new investments and other opportunities to create a resilient society.
"The inclusiveness and fairness in the energy transition process are significant for society, the economy, industry and the environment," said Kuki.
A just energy transition also needs to ensure access to quality energy for all, especially for the poor.
"The energy transition, one of which is by retiring coal-fired power plants, as is being reviewed by the Ministry of Energy and Mineral Resources of 9.2 GW. According to the IESR study, it requires about USD 4.3 billion. But it will provide long-term benefits for the people of Indonesia," explained Fabby Tumiwa, Executive Director of the Institute for Essential Services Reform (IESR).
He believed that managing energy transition with a people-centered approach will ensure the benefits and costs involved in the transformation of the energy system are distributed fairly and protect the most vulnerable in society.
Energy Transition Working Group (ETWG) Indonesia G20 2022 and T20 Indonesia, in collaboration with Australia's Center for Policy Development (CPD), Climateworks Centre, International Institute for Sustainable Development (IISD), Indonesia Research Institute for Decarbonization (IRID), and the Institute for Essential Services Reform (IESR), and supported by the Asia Investor Group on Climate Change (AIGCC), organized the G20 seminar series entitled "Unlocking Innovative Financing Schemes and Islamic Finance to Accelerate a Just Energy Transition In Emerging Economies."