Jakarta, April 3, 2023 – The process of submitting an appeal by Indonesia against the World Trade Organization (WTO) decision regarding the nickel ore export ban is ongoing. The government introduced an appeal against the WTO decision on December 8, 2022, stating that the export ban and downstream nickel policy violated international trade rules. However, at present, the government and the European Union are still waiting for the formation of the WTO Appellate Body because there is a blockage in the election of the Appeal Board by a WTO member, the United States.
The Executive Director of the Institute for Essential Services Reform (IESR), Fabby Tumiwa, stated that Indonesia needs to wait until the judges are formed by the WTO Appellate Body, which currently does not exist to process the case, even though it takes a long time. He revealed this on the TVRI World program "Economic Outlook" on Monday (3/4/2023).
For information, the Appellate Body, as an appellate court of the WTO settlement system since 2019, is no longer effective in resolving disputes between countries due to the vacancy of trial judges and the blocking of the appointment of new judges by the United States. Institutional improvements are being made to address the current vacuum of the Appellate Body, and it is possible to replace the two-level adjudication system with a single-level adjudication.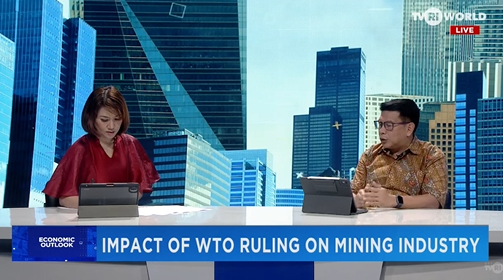 "The process of selecting judges will also take a long time, and there are some criteria under WTO rules that can be nominated and become members of the body, so the process is still ongoing. It can be said that this trade dispute case is currently a status quo," explained Fabby Tumiwa.
Fabby mentioned that the settlement of trade disputes over this raw material policy depended on the diverse expertise of the composition of the judges and whether a country like Indonesia could provide new evidence showing that Indonesia's raw material policy was in line with the WTO agreement. Furthermore, Fabby emphasized that Indonesia has strong reasons to submit an appeal to the WTO. First, Indonesia wants to spur the growth of the processing and refining industry (smelter) because it aligns with the downstream policy to increase the added value of natural resources in the country. Second, Indonesia wants to develop various domestic industries, including downstream industries and industrialization, which will continue to be improved.
"We, at least, need to prove to the WTO Appellate Body that the raw material policy positively impacts developing countries, such as Indonesia. Including evidence regarding the policy's good impact on Indonesia's economic development. I think this is an interesting case, and Indonesia needs to be good at presenting the evidence," said Fabby Tumiwa.
Fabby highlighted that if this trade dispute case caused Indonesia to lose the WTO lawsuit, the government needs to use other mechanisms to increase the added value of nickel products and focus on the domestic industry. For example, Indonesia focuses on policies and implementation to increase nickel downstream.