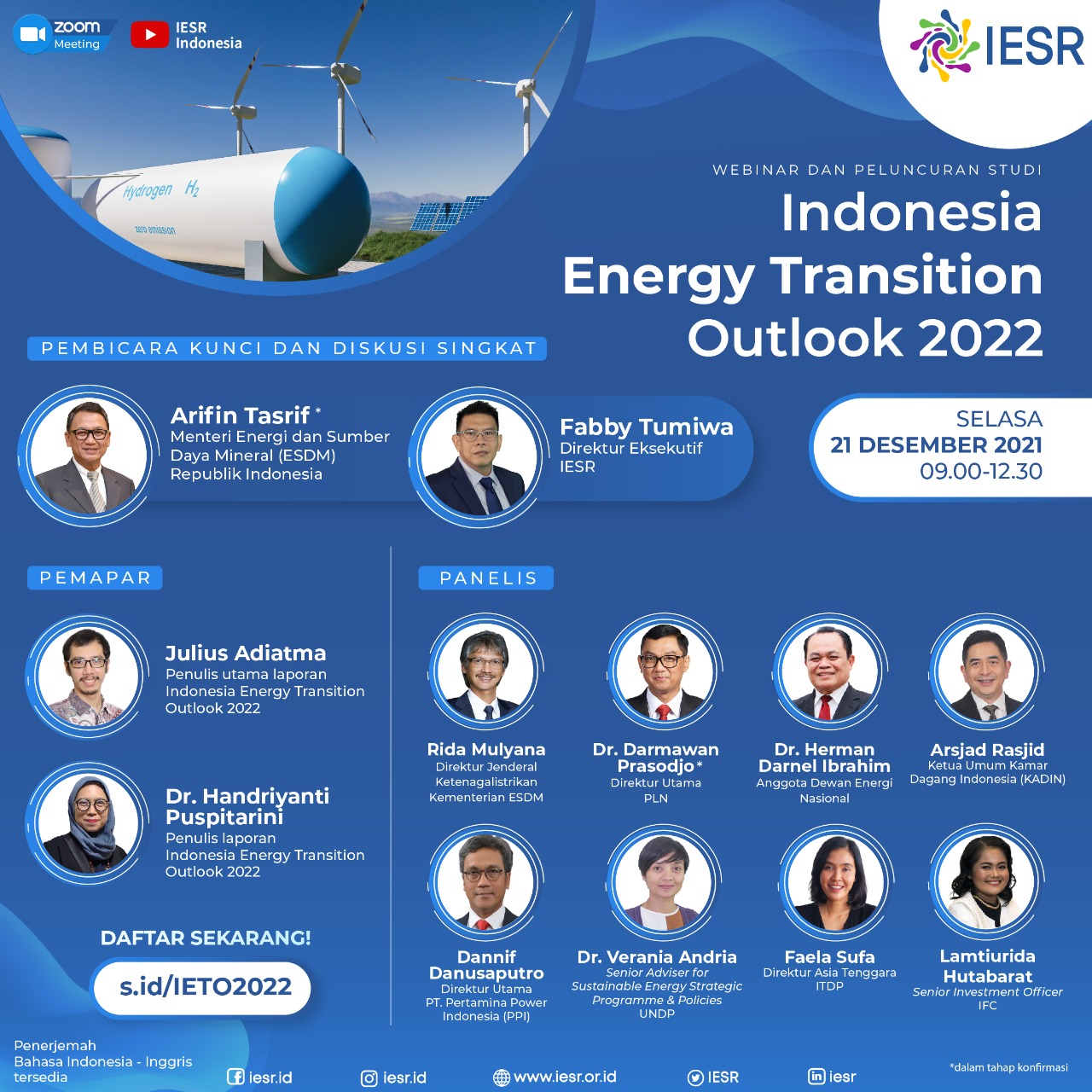 Indonesia Energy Transition Outlook (IETO) 2022
Recording Playback
---
Progress and developments related to the energy transition in Indonesia are specifically reviewed in IESR's flagship report which launched at the end of each year i.e. the Indonesia Energy Transition Outlook (IETO). The IETO is one of the main annual reports of the Institute for Essential Services Reform (IESR). Published annually since 2017, IETO (previously entitled Indonesia Clean Energy Outlook – ICEO) aims to monitor the development and progress of the energy transition in Indonesia, as well as identify challenges and opportunities in the following year. This report includes policy analysis and review, status developments, as well as reports on specific topics.
Over the years, IESR has sought to increase the scope and accuracy of the IESR analysis in this report. This fifth edition of the IETO collects various perspectives from stakeholders in the energy sector and curates them with in-depth studies to deliver strategic analysis of how the energy transition to a low-carbon energy system is transforming in the country. The IETO also contains a report on the development of fossil energy in relation to Indonesia's readiness to transition to clean energy and develops an energy transition readiness framework to evaluate the progress of the transformation carried out.
Through IETO, IESR intends to inform policymakers and all stakeholders in the energy sector about the effectiveness of policies and improvements needed to help accelerate the development and transition of clean energy in the country. By doing this, he hopes, Indonesia can ensure energy security, a competitive economy, and a transition to a sustainable energy system in the near future.
IETO 2022 will be launched in a webinar which is also intended to obtain views/perceptions from policymakers and actors on the trends that will occur in the coming year in the energy transition. Discussions at this meeting will focus on the energy transition readiness framework in Indonesia's electricity sector as well as various lessons learned in 2021 to overcome the challenges of encouraging the energy transition in 2022.
---
Presentation Materials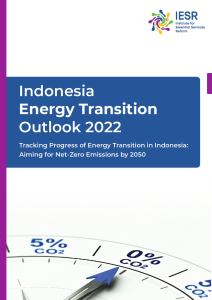 IESR – IETO 2022 TRF
IETO_2022_TRF.pptx

IESR – IETO 2022 Outlook
IETO_2022_Outlook

Speakers
Dannif Dhanusaputro - Direktur Utama PT. Pertamina Power Indonesia (PPI)*

Darmawan Prasodjo Ph.D - Director of PLN*

Dr. Handriyanti D. Puspitarini - IETO main author

Dr. Herman Darnel Ibrahim - Member of Dewan Energi Nasional*

Dr. Verania Andria - Senior Adviser for Sustainable Energy Strategic Programme & Policies UNDP

Fabby Tumiwa - Direktur Eksekutif IESR

Faela Sufa - Southeast Director of ITDP*

H.E. Arifin Tasrif - Minister of Energy and Mineral Resources*

Ir Rida Mulyana - Directorate General of Electricity MEMR*

Julius Christian - IETO main author

Lamtiurida Hutabarat - Senior Investment Officer IFC*

M. Arsjad Rasjid - Head of Kamar Dagang Indonesia (KADIN)*