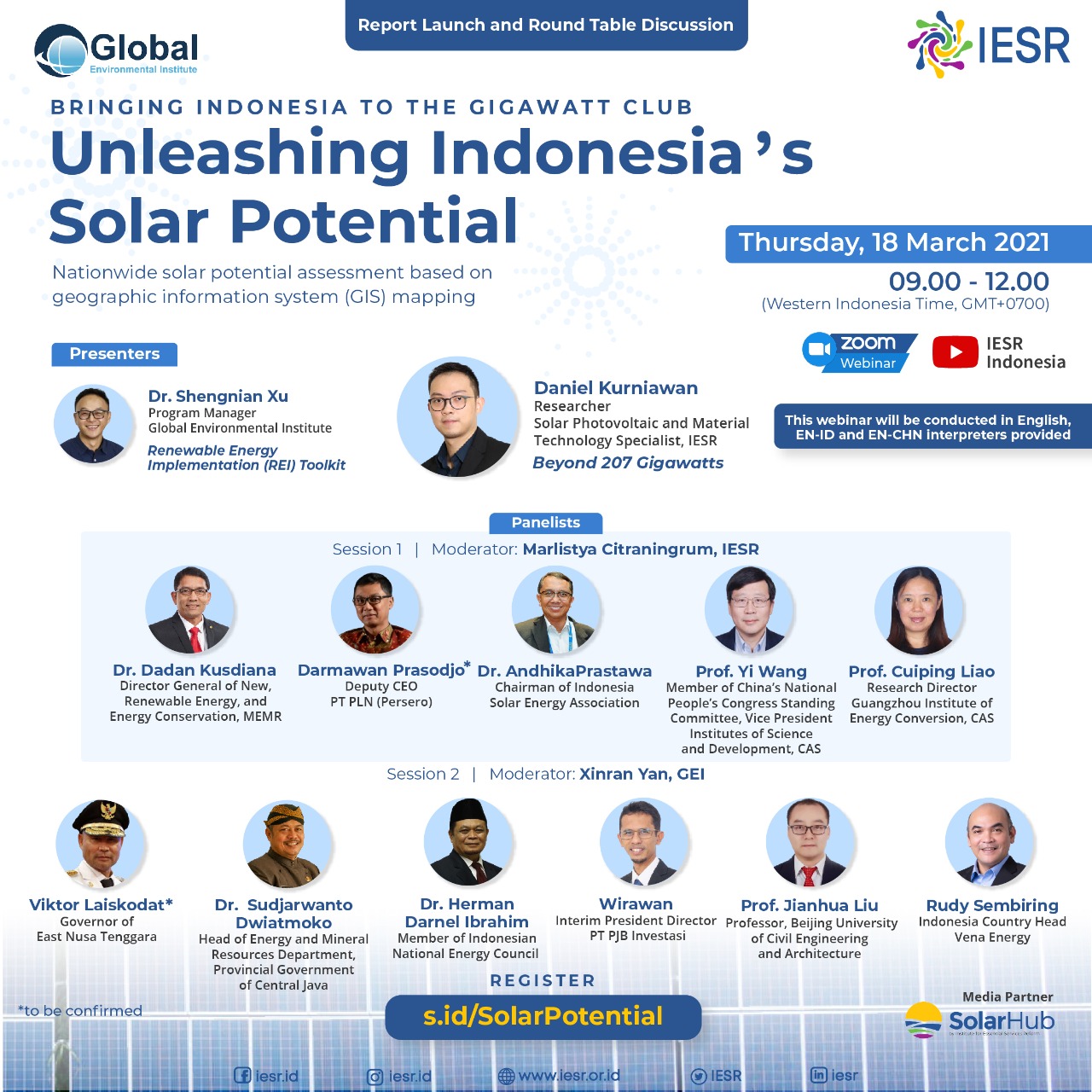 Indonesia Solar Potential Report
On-Demand
---
Report Launch and Round Table Discussion
Bringing Indonesia to The Gigawatt Club:  Unleashing Indonesia's Solar Potential
With energy transition becoming a global trend following action to mitigate climate crisis, many countries have integrated low-carbon energy systems into their national development agenda. Indonesia has the highest energy demand among ASEAN members, and fossil fuel resources still dominate Indonesia's energy and electricity mix: less than 12% primary energy supply was from renewable sources, and the renewables only provided ~14.9% of Indonesia's electricity generation in 2020 (IESR, 2021). Although Indonesia has established its renewable energy targets, i.e., 23% of primary energy mix by 2025, renewables growth in the country is slow, even stagnant over the years.
Indonesia is often called a frontier market for renewable energy, and that includes solar energy. While the technical potential is high, up to 207 GW according to Ministry of Energy and Mineral Resources, solar generation in the country is less than 1% – this slow growth is a combination of several inhibiting factors: lack of consistent and supportive policies, the absence of attractive tariff and incentives, as well as concerns on grid readiness. Solar energy will be key to open the doors for other renewables in Indonesia; along with the current government's plan to issue presidential regulations on renewable energy pricing and deployment.
To support accelerated solar deployment in Indonesia, in March 2020, the Institute for Essential Services Reform (IESR) signed an MoU with the Global Environmental Institute (GEI) to collaborate on renewable energy development. To this end, we conducted two training sessions and technical exchanges on technical potential analysis of renewable energy resources by applying the Renewable Energy Implementation (REI) toolkit.
To date, with the supports from GEI, IESR has completed a GIS-based nationwide solar PV technical potential assessment in Indonesia. The assessment report is produced to provide detailed information for related stakeholders in identifying prospective locations for solar power plants at any scale, feeding energy planners and driving more ambitious solar development in Indonesia. The interests and growth need to be nurtured, yet the big question remains: what more Indonesia can do to enter the gigawatt solar installations?
---
Presentation Materials
Daniel Kurniawan

GEI

Download
ESDM Central Java

Liujianhua