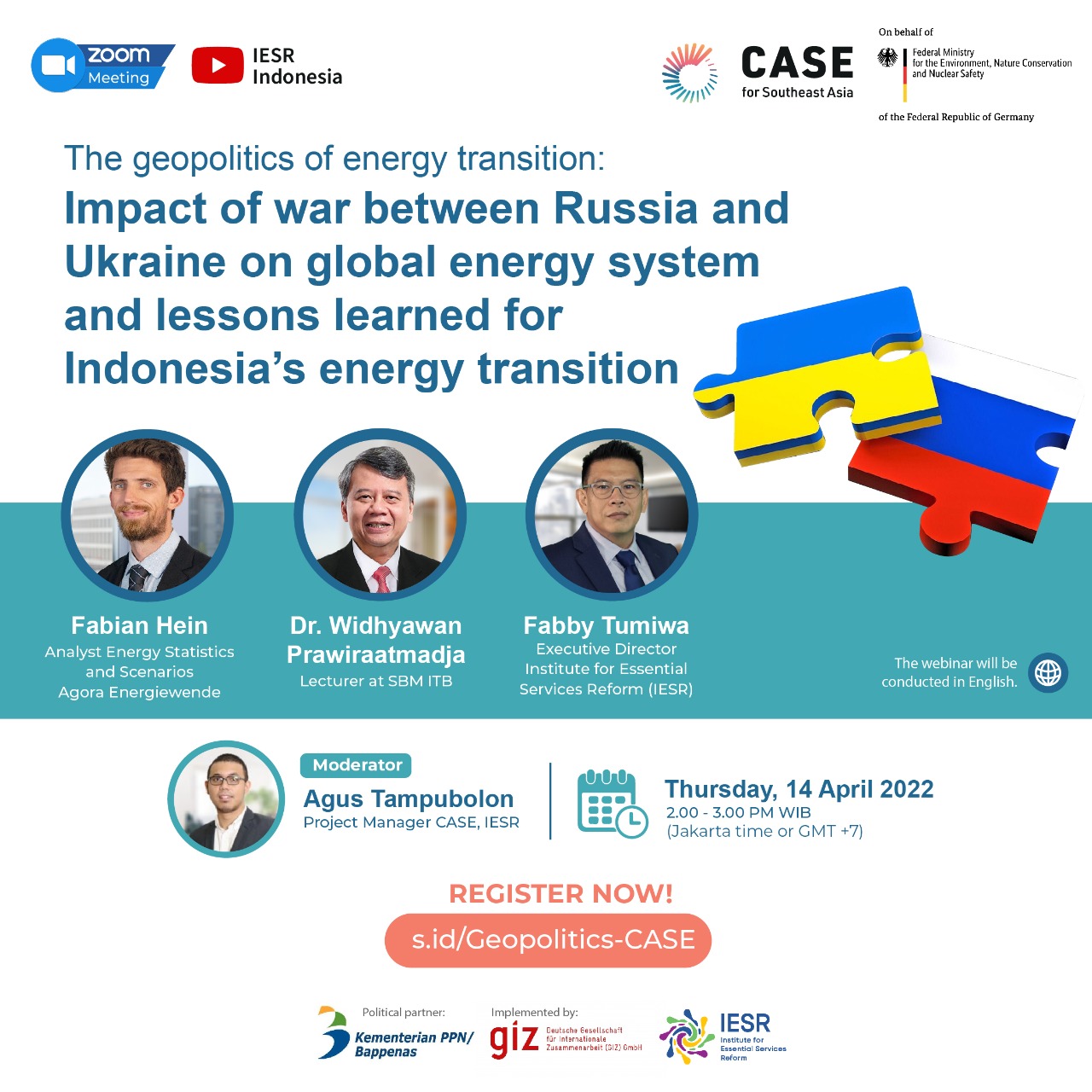 The geopolitics of Energy Transition : Impact of War between Russia and Ukraine on Global Energy System and Lessons Learned for Indonesia's Energy Transition
The Russian invasion of Ukraine caused a global social-political disturbance, which in the end impacted the global trade of energy commodities. The price of energy commodities has risen to a level unprecedented before. The Brent crude oil price reached 117 USD/barrel on March 25th, 2022, reaching a milestone above US$100 per barrel for the first time since 2014. Other commodities, such as coal and liquified natural gas also saw an increase. For Indonesia, this inflation of energy commodity prices would potentially burden the state budget, i.e. the increase of subsidy allocation for the fuel oil or LPG. According to an analysis by the Institute for Development of Economics and Finance (INDEF), this increase in crude oil's price at US$ 1 per barrel will increase the LPG subsidy budget by around Rp. 1.47 trillion, kerosene subsidies by Rp. 49 billion, and the fuel compensation expense to Pertamina by Rp. 2.65 trillion. 
Indonesia currently does not have an alternative to anticipate the surge in energy prices. Raising fuel prices can be an option, but it will come with many unwanted consequences. Alternatives such as electric vehicles (EVs) and household gas grids to reduce LPG consumption are very expensive, not yet fully available nor massively reliable. All of this provides a clear signal that Indonesia must accelerate its transition to renewable energy.
Therefore, it is important for Indonesia to understand all the implications of the Russia-Ukraine conflict to the country's energy security and net-zero emission strategy. It is critical to develop a strategy to mitigate the geopolitical and external conflict implications for Indonesia's energy security. 
Through CASE Indonesia, we would like to organize a discussion with experts from European Union (EU) countries and Indonesia to discuss the lessons learned from this war between Russia and Ukraine and what the impacts on global and Indonesian energy transition are.
Speakers
Dr. Widhyawan Prawiraatmadja - Lecturer at SBM ITB

Fabby Tumiwa - Executive Director Institute for Essential Services Reform (IESR)

Fabian Hein - Analyst Energy Statistics and Scenarios at Agora Energiewende