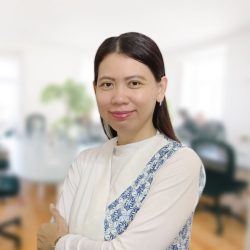 Program Manager Green Economy
Lisa has been working in a development field for over Eight years at the national and international organisations addressing social, economic, and environmental issues.
She pursued her Bachelor Degree at the University of Indonesia majoring in English and Cultural Studies where she focused her study to learn on cultural understanding, history, and tradition towards social and economic development. Following to her Bachelor Degree, she received a scholarship from US Department State to study and to foster leadership potentials on social entrepreneurship in the US. Lisa then continued to pursue her Master Degree on Ecological Economics at the University of Edinburgh to embrace her passion in promoting green economy and sustainable business practices particularly through leveraging renewable energy entrepreneurship.
Her previous professional background, among others: research associate at the Institute of Sustainable Earth and Resources (ISER) of University of Indonesia; consultant for renewable energy and energy efficiency at the Asian Development Bank (ADB); network manager at the UN Sustainable Development Solutions Network (SDSN); and officer for enterprise development and stakeholder engagement at the ASEAN Secretariat.
On her free time, she plays with her cats, cooks, workouts at the gym, and travelling.