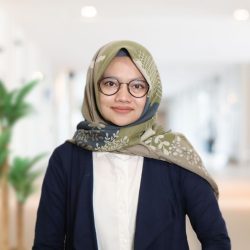 Communications Officer, Desain & Media Digital
Nisa's responsibilities is to create visual concepts to communicate ideas that inform and captivate our audience. She developed the production design for various applications such as social media content, flyer, poster, infographic, and video graphic.
As a young talent, Nisa has an extensive experiences: perviously an intern-graphic designer at architect studio GY MGMT. Experienced in many freelance project like landing page design project for Peter Education website and video editor for Youtube channel, Fun Cooking with Yackikuka.
She won several design contest in 99design for infographic, Illustration, social media cover and product design category. Strong in visual communication with a Bachelor of Communication: Journalism Studies, from Padjadjaran University Bandung.