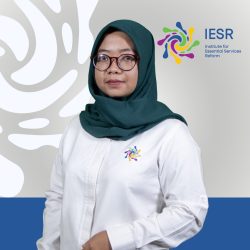 Local Project Officer, Sustainable Energy Access
Riina's role is to assist the Sustainable Energy Access Program Manager in implementing program activities, especially in Central Java. She assists in the implementation of daily tasks and projects, as well as administrative management. Riina also contributes to the development of work plans, program development, and organization. Her main focus is communicating, maintaining relationships, and expanding the scope of cooperation with stakeholders in Central Java.
Previously, Riina joined as a Laboratory Research Assistant at the Energy and Society Laboratory, Sebelas Maret University (UNS) Surakarta with a focus on research on technical, educational, and social aspects of Renewable Energy, particularly Geothermal Energy.
Riina is a graduate of Mechanical Engineering Education and Postgraduate of Vocational Teacher Education of Sebelas Maret University, UNS Surakarta.
Although Riina's background is related to education, she is an environmentalist and she is often involved in excursions, projects, and research on Renewable Energy.
In 2017, Riina was involved in the Renewable Energy (Solar and Wind Turbine) Interactive Learning program for two elementary schools in Klaten, Central Java, SD Negeri 1 Ngreden and SD Alam Bengawan Solo (SABS). In 2018, Riina conducted research on energy transition, and the management of Calophyllum inophyllum waste (Biomass) into alternative fuels using hydrothermal technology. Recently, Riina has also conducted research on "Education and Public Outreach of Geothermal Energy". In addition, she has also visited a cattle farm in Boyolali, Central Java, which converts cattle waste into Biogas. She has gained a lot of experience in creating and utilizing existing resources to develop renewable energy into future energy that can be accessed by various parties.
Riina is very enthusiastic about various issues with renewable energy. She hopes to play an active role and contribute fully to empowering all parties toward clean, green, and environmentally friendly energy.