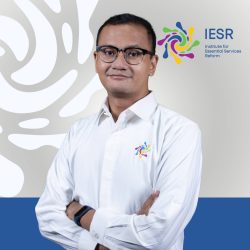 Green Economy Program Manager

Wira has been a dedicated development professional since the beginning of his professional career. Currently, Wira is the Green Economy Programme Manager covering issues related to sustainable and inclusive development, especially in the field of energy transition and climate change. Prior to IESR, Wira worked as a Regional Cooperation Analyst at Bappenas, Project Support at a UNDP Indonesia project, and Business Consultant at PRISMA 2.
Wira is one of the recipients of the Asian Peacebuilders Scholarship (APS) which led him to obtain a dual master's degree from the UN-Mandated University for Peace in Costa Rica to study environment and development, and Ateneo de Manila University in the Philippines to study social development. Wira also holds a bachelor's degree in International Relations from Universitas Padjadjaran.
During his free time, Wira enjoys listening to music, watching series, exercising, traveling, and playing online games.