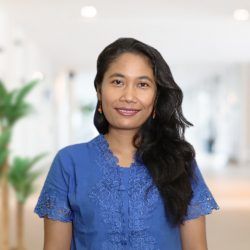 Strategic Communication Specialist
After graduated from Riau University, majoring in International Relations, Uliyasi Simanjuntak (Uli) took her path in the world of communication and advocacy for more than eight years. Before joining IESR, Uli worked for a local NGO, Global Community Friends, an international manufacturing company, PT Riau Andalan Pulp And Paper as a Member of APRIL Group, and a National NGO, Wahana Visi Indonesia, in the East Sumba Area Program. As a form of accountability to donors and community as well as project documentation, Uli has written various project significant stories and launched multiple publications and campaigns. In 2019, Wahana Visi Indonesia awarded her as the winner in the writing contest at Wahana Visi Indonesia, and the Top Eight Best Writing in Grants Acquisition and Management's Success Story Competition organized by World Vision International.
However, the most honorable matter for her is if her works inspire and transform people, so it will lead to creating a potential environment for each generation to live in all of its fullness.
At IESR, as a Strategic Communication Specialist, Uli is responsible to develop, manage, and implement communication strategy which includes elaborating and monitoring of social media protocols as well as institution branding